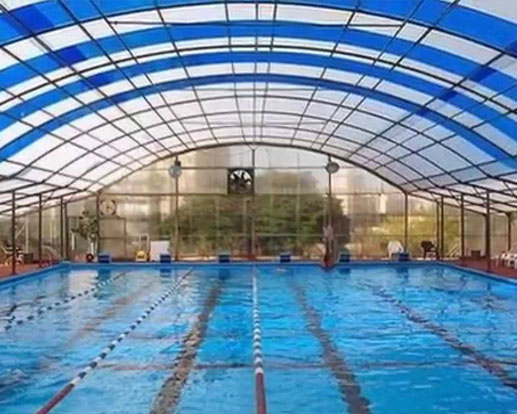 Shading with Affordable Price and Amazing Measurement - Polycarbonate Shed Manufacturer or Fabricator in Kolkata
Polycarbonate shed is widely appreciated by the clients worldwide. It helps to enhance the look of a building. Polycarbonate Shed Manufacturer or Fabricator in Kolkata can present the sheds with following features.
Proper Shading Solution with Aesthetic Look
It presents quality assured shading solutions. It offers wide range of color choices. The product offers for the need of aesthetic elevations. It helps in enhancing building's outlook. It is light in weight. The product has unbelievable finishing.
Soothing to Proper Requirements
Polycarbonate shed presented by Decoshed has the sheets available in affordable price and desirable types. It can meet all color combination requirements. The item has ultra modern look and excellent flatness. It is sound insulation and pollution resistant. Acid, alkali and salt spray can't affect it harmfully.
Smooth Finishing with Attractiveness
The product deserves smooth paint finish and stability of flatness. Super UV characteristics prevent the huge possibility of skin cancer. It resists blow and breakage. It can help to minimize vibration noise. The product is a better choice for heat insulation. Installation and fabrication of the item can present adequate possibility of complex shape.
Easy to Maintenance Feature with Decorative Attraction
Polycarbonate shed is easy maintenance. The opportunity of various color choices is presenting the undeniable decorative appeal. Polycarbonate shed from SAN enterprise presents sleek design, rust proof finish, brilliant shine and corrosion resistance.
Weatherproof Complements for Modern Architectural Style
Polycarbonate Shed has presented weather-proof complements for modern architectural style. The product is suitable for all types of weather or seasonal changing situation. It has auto-conditioning feature. Polycarbonate Shed Manufacturer or Fabricator in Kolkata presents précised design and single functioning ion reasonable price. It is resistive against rough handling and harsh weather. The product has the little risk of leaking. Leading techniques and quality material present the taking opportunity of energy efficiency, weather-proof coating, metallic finish and sensitive cum natural looking.
Key Features of Innovative Product
Attractive design with durability, longevity, smooth surface, high tolerance, impact resistance, sturdy construction, lightweight design, weather protective coating and superior strength can easily manage the features of innovative product.
Complete Satisfaction of Customers
Polycarbonate shed is easy to install and always fit for clients' satisfaction. Highly durable shed is ideally suited for vertical as well as sloping walls. It is suitable for both exterior as well as interior applications. It is eligible and reliable to use. Moreover, the best quality work is carried out with precision.
Send Enquiry